Past Projects
Crafting for Health and Wellbeing - funded by Awards for All
A 12 month project which ran from June 2014 to June 2015. Participants had the opportunity to try a variety of arts and crafts activities such as printmaking, pottery, textiles, yarn crafts, knitting and stitchcraft.

The free sessions were run by experienced Arts for Health practitioner Lisa Pidgeon, partnered by visiting professional artists who will be able to support & encourage in all aspects of creative endeavours. Crafting for Health and Wellbeing provides the opportunity to develop new skills in a relaxed, friendly and supportive environment.

Encouragement will be given to gift work to charitable and community causes.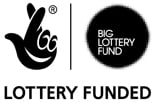 This project was of particular benefit to people experiencing mental health difficulties such as stress, anxiety and depression. The free sessions proved to be positive, relaxed and provided a haven from everyday worries and concerns.

You can read about the End of Project Celebration on our blog.


Knitting Communities Together

Leicester City Council Charnwood Ward Community Fund have approved funding for us to work with service users with learning disability at Hasting Road Day Care Centre.

The project called 'Knitting Communties Together' involved installing an interesting, fun and interactive textile piece in an unused area of the day care centre to encourage use of the space through a variety of sensory experiences.

Additionally, staff learnt how to make decorations and blankets etc which will be gifted to local community groups. A detailed evaluation report of this project is available here.

Everybody's Reading Festival

Lisa and Lindsey ran a workshop for the 'Everybody's Reading' Festival in October 2013.

We were lucky enough to be hosted by the Curve Theatre in the city centre who sold every single ticket. The theme was 'Adventures in Zombieland' and children were invited to come and make their own three-dimensional monstrous characters from recycled textiles and create stories inspired by their own favourite scary books.

Wellbeing Hi-5
Throughout the month of Oct in 2013, Lindsey and Lisa participated in three projects for Creative Leicestershire - 'Inspired to Create and Make Others Smile'. We delivered a series of workshops using poetry to inspire the creation of a small, textile based, wallhanging. Poetry often addresses very direct emotions and by combining poetry and words with meaningful activities we were able to support participants to create some beautiful work. One of our participants wrote her own poem "Seasons" and sent it to us following the workshop...

Lisa also participated in another Wellbeing Hi-5 project, along with Katherine Brown from Beauty and Utility Arts, called 'Bomb the Library'. The Knitting Guerillas of Blighty (KGB) were invited to carry out a special 'yarn bomb' and participants were invited to hide all sorts of little items on the bookshelves and between the pages of books in Coalville Library.
Yarn bombing is a way of brightening up an area and, in the case of the KGB, making people smile. We encouraged visitors, young and old, to come and try out some easy yarncrafts such at finger knitting.


Intergenerational Project
In January 2014, Lisa was also asked by Beauty and Utility Arts to work as a participatory artist on an Intergenerational Project funded by Leicestershire County Council 'Hi 5'. During this project we worked with EMH Homes Prior Park and Lewis Charlton School in Ashby de la Zouch.
The theme was the 100 year anniversary of the start of WW1. We used reminiscence objects, images and poetry to stimulate discussion and together produced 2 wallhangings. The first wall hanging was inspired by the war artist Paul Nash and the second wallhanging was inspired by silk postcards sent from the trenches.