Each year we ask our community of participants, volunteers and support workers to complete a short, qualitative questionnaire asking them about their experiences of attending our weekly arts for health sessions and the impact this has on areas of their life beyond the sessions we deliver. The questionnaire is analysed using a thematic based analysis and split into two main categories - Experiences and Impacts. These categories are split into sub-categories depending on the themes emerging from the answers given, here are our latest results from 2019/20.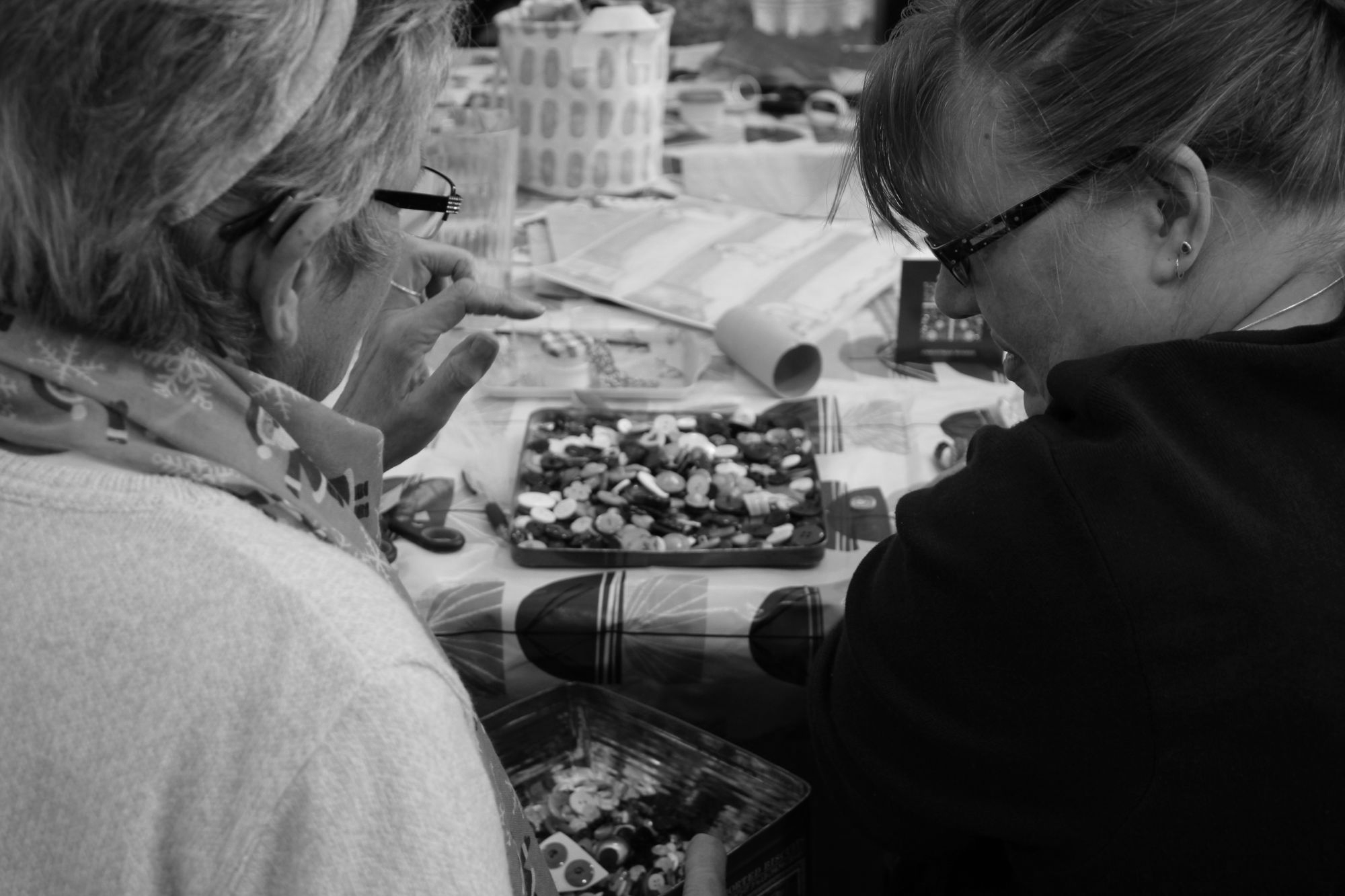 Organisation
" The sessions are well run, organised and safe"
"Feel at ease and comfortable in the accepting atmosphere"
Community Belonging
"There's a real sense of community within the group"
"It is a calm and caring environment with Lisa and her helpers making sure we are all ok"
"I feel safe, within the sessions, and valued"
"I love the relaxed, friendly, supportive atmosphere"
"I have met some lovely people and gone onto prosper from attendee to volunteer"
Process of making
"Feeling glad I have attended each time. Taking home what I have made. Taking time to complete the task. Don't need to rush"
"Lisa is so helpful, kind and knowledgeable. Easy to ask others for help if needed. Always amazed at what we make each week, always new and interesting"
"I now know that I can 'do craft' that there is no right or wrong way to do it. Lisa and the volunteers help and encourage when needed and stand back when they see that 'I can do it'
Learning and sharing new skills
"I love learning new skills each week and I pass these skills onto my friends and family. My children love crafting with me"
"Learnt lots of new craft skills. I would be lost without it"
"I have been able to pass on, new skills, to help one of my friends"
"After attending the group, I've gone on to create, outside the group, which brings me joy and peace. I have gone on to create my own dedicated space at home"
Enjoyment from creativity
"I get so much enjoyment from all of the things we make!!!"
"The time at the workshop goes so fast because I am enjoying myself"
"I enjoy the chance to do something completely unrelated to the stresses of my life. I find the sessions very mindful"
"I enjoy making different items as I love to learn different techniques, it challenges my brain and I feel as though I have accomplished something"
"I enjoy helping to enable others find their inner crafter. Making them a drink and supporting Lisa with creating projects to inspire the attendees"
Socialisation and making new friends
"The group has given me a new social network of like-minded crafty/arty people which is great for my mental health as I have depression"
"I have made lots of new friends at Little Bird SOS. Everyone is so welcoming and friendly and there is no gender/class/race divide. Everyone gets on with everyone - it's great"
"I enjoy all the group has to offer, especially friendships"
"I have made lots of new friends and got involved in other crafting opportunities"
"I have made new friends from the group and I now feel better about myself and my situation"
"l have made connections and friends with people who understand me and my feelings"
Generating enthusiasm, hope and optimism
"I enjoy having something to look forward to each week. It gives structure to my otherwise empty week"
"If I didn't have Little Bird SOS in my life, I would feel pretty empty. I always look forward to Friday's"
"Little Bird SOS is a very important part of my life. I look forward to and enjoy every session"
"Attending sessions is, honestly, the highlight of my week; I really look forward to the sessions"
"It provides me with a planned break from all my other pressures"
Confidence building, self worth and happiness
"I have learned new skills that my confidence has increased"
"Lack of confidence has always been my thing but getting to know new people has been very hard yet they are really lovely people in our group. thank you so much"
"Helps me to increase my confidence and keep coming back for more"
"Although my confidence is still low, I feel confident within the sessions and feel so happy. This feeling can last for the rest of the day"
"It gives me more confidence to just be myself rather than masking all the difficult/negative aspects of being me"
"My confidence is much improved and now I feel able to help others in the group if they need it"
"I have carried on several of the crafts at home and I no longer feel guilty making time for myself and having 'me time'. It's good to focus on the achievement of making something"
"Without doubt, volunteering for Little Bird and participating in session, has increase my self confidence and relieved my depression and anxiety by giving me some sense of purpose. I feel more confident approaching people"
Mutual support
"Even when I have struggled, there is always someone to help. It's such a lovely supportive group and we all help each other"
"If anyone has problems, we all try to help with advice, sometimes it is helpful to know that you aren't on your own"
"I have a friend who struggles with sewing and it is a great feeling knowing that you have helped someone else"
"It's good to be with other people whom understand how you feel"
"I have depression and the support of Lisa and other group members is uplifting and comforting to know I have a group of people to turn to if need be"
"I enjoy connecting with people who understand what it's like managing mental health difficulties and disability"
"Being able to use my artistic skills to help others, being able to brighten someone's day - even if it's just a little bit"
Health and wellbeing improvements
"My family have also noticed and improvement in my wellbeing"
"Helping my mental health and wellbeing"
"The sessions are a life saver for me"
"This group has positive impact on our s/users interactions with others. Has boost their feelings of wellbeing and decreased their feelings of depression"
"I often continue with the craft at home to keep my mind occupied and as a way of helping my mental health"
Overcoming isolation
"Gets me out of the house and the people give me company"
"I'm finding I'm not the only one who feel on their own"
"I also benefit from being social, connecting with people and getting out the house. If I didn't come to the sessions, I wouldn't leave the house"
"The class has helped me get out and make new friends"
"It makes me happy to know I'm making a contribution to the community rather than just sitting at home"
"For service users, it's important to feel part of a social network as this leads to a feeling of belonging. Face to face activities such as this, can help reduce loneliness and isolation"
Employment skills
"At the moment, I am seeking employment and I believe this has given me valuable experience, to use towards achieving that goal as well as giving me something to do after leaving University"